Santa Clarita Slip & Fall Attorney
Holding Negligent Property Owners Accountable
Slip and fall accidents are a common focus of personal injury lawsuits. These cases typically concern premises liability, which requires property owners to ensure the safety of their premises for visitors and guests. Under premises liability laws, a property owner must take reasonable measures to make sure their business, facility, or property is free from potential hazards.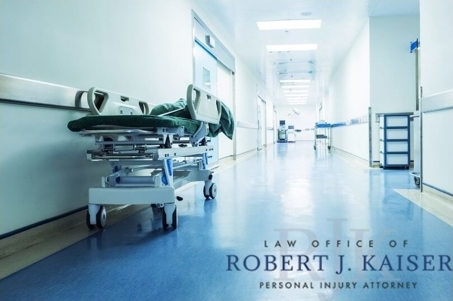 When premises owners fail to address dangers they knew or should have known about – including dangers that pose risks of slips or falls – they can be held liable for damages victims suffer as a result. At the Law Office of Robert J. Kaiser, our legal team is passionate about guiding victims and families through their legal journeys after they have been harmed due to the negligence of others, including negligent property owners.
If you or someone you love has been injured in a slip and fall accident that could and should have been prevented, Santa Clarita slip and fall injury attorney Robert Kaiser can help you understand whether you have grounds to pursue a claim and what we can do to fight for the compensation you deserve.
Call (661) 441-3446 for a FREE consultation.
Causes of Slip & Fall Accidents
Slip and fall accidents can be caused by a number of hazardous conditions that go unaddressed by negligent property owners. These commonly include:
Wet or slippery surfaces
Tripping hazards, including cords
Open holes or torn carpeting
Crumbling steps or uneven floors
Insufficient lighting
Nursing home neglect
Legal Elements of a Slip & Fall Case
Whatever the cause of a slip and fall accident may be, victims will need to prove a few essential legal elements as part of their premises liability claim. These elements are centered on proving negligence, fault, and liability, and include:
A Duty Existed
In order to have a valid claim, victims must prove that a legal duty existed between them and the property owner. In most cases, this duty exists when a premises owner makes their property or business available to the public, visitors, and guests. A grocery store, for example, owes a reasonable duty of care to keep shoppers free from hazards they know about or should have known about.
There are some cases where proving the existence of a legal duty may be more complicated, such as in cases of contracted workers or private property. Our Santa Clarita slip and fall injury attorney can explore the facts of your particular case to determine whether there was a legal duty.
The Duty Was Breached
Proving that a premises owner was negligent and failed to uphold its legal duty comprises the core of a slip and fall claim. When a property owner fails to take reasonable measures in addressing potential hazards that could harm guests, such as open holes or wet surfaces, they breach their legal duty,
Causation
Just because a premises owner breached its legal duty does not necessarily mean their failure or negligence caused a victim harm. As such, victims must prove that the breach of duty more likely than not caused the slip and fall and subsequent injuries.
Causation can vary according to the specific facts of a case. For example, victims who are harmed after slipping on wet surfaces would need to prove negligence as the reason for their accident. This can be achieved when evidence shows that an employee mopped the floor, but did not place warning signs around the wet floor.
Damages
The focus of any personal injury claim is to recover damages. This means that victims must have suffered actual damages in their accident, including both economic and non-economic damages, in order to recover financial compensation. Our legal team takes a full account of how accidents and injuries affect our clients and strives to maximize recoveries for their pain and suffering, medical expenses, lost wages, and other losses.
Discuss Your Unique Case by Calling
(661) 441-3446
Every accident is unique, and slip and fall cases can vary dramatically depending on the nature of the accident, where the incident took place and the relationship between the victim and property owner. Because of this, it is essential that victims speak personally with a proven Santa Clarita slip and fall injury lawyer about their rights and options. That is precisely what we offer during free consultations.
To learn more about your accident and how award-winning Attorney Robert Kaiser, voted "Best Of" Santa Clarita Valley, can help you pursue the compensation you deserve, call (661) 441-3446 for a free consultation.