20 Driving Tips - #12 Motorcycles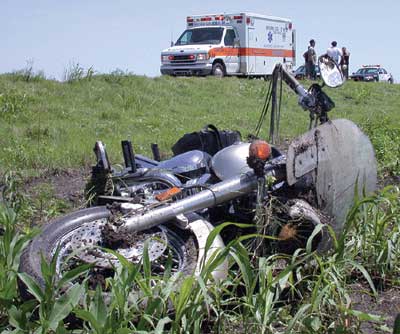 All too often motorists aren't aware of motorcycles on the roadway. In fact, failure to detect and recognize motorcycles in traffic is the main cause of motorcycle accidents with other vehicles. the Santa Clarita Valley is no exception to this statistic and all too often these motorcycle and auto accidents result in serious personal injury. Here are some tips on sharing the road with motorcycles.
IF YOU RIDE A MOTORCYCLE:
Make sure other drivers see you. Always keep your headlights on - even during the day. It will help make you more visible. At least twenty-two states require that motorcyclists operate with their headlights on during the day. One of the best things you can do is make sure other drivers see you. Stay out of blind spots - especially around trucks and other large vehicles. Just because you think other drivers see you doesn't mean they do. Wearing bright clothes during the day and reflective material at night also helps.
IF YOU DRIVE A CAR:
Remember to share the road. Keep a lookout for motorcycles. A motorcycle's small size makes it more difficult to spot in traffic, so motorists must aggressively and consciously look for motorcycles in changing traffic conditions. Not tailgating or riding too closely to motorcycles will help you share the road more safely. Motorcyclists don't ride in the middle of their lane. They ride a little to the side to avoid the slick oil that can accumulate in the middle of lanes.
HIGHWAY HINT
If you're behind a motorcycle, follow at the same interval that you would another car - at least two seconds, better yet three seconds, on dry pavement.
Posted By
Robert J Kaiser
Categories: