20 Driving Tips - #8 Following Too Close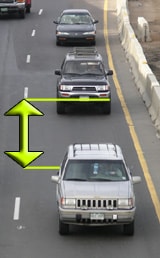 You're traveling down a busy two-lane street. There is a car in front of you and traffic is heavy in the oncoming lane. As you approach an intersection, an oncoming car suddenly makes an unsignaled left-hand turn in front of the car ahead of you. The car in front of you slams on the brakes hard, but it is too late. Your car rams into the back of the vehicle you were following. What could you have done to avoid this auto accident?
TO AVOID SUCH AN AUTO ACCIDENT:
Allow plenty of distance between your vehicle and the one ahead. Space allows you time to stop safely if the other driver suddenly brakes. A good rule of thumb: With good visibility, dry pavement, and a safe alternate path of travel, allow at least a two-second interval between your car and the one ahead of you. Better yet, allow three seconds.
HIGHWAY HINT
You can measure your following distance in this manner:
Pick out something up ahead, like a light post.
When the rear of the vehicle ahead of you passes that point, begin to count "One thousand one, one thousand two, one thousand three..."
If the front of your vehicle reaches the light post before "one thousand three," you're following too close.
Posted By
Robert J Kaiser
Categories: