20 Driving Tips - #16 Left-Hand Turns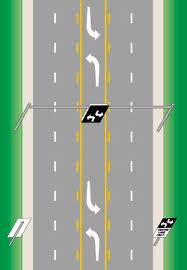 You're pulling out of a business driveway and want to make a left turn onto a busy street. The road has a special center lane designated for making turns. It is important for you to understand how to use this center turning lane.
TO ENSURE CENTER-LANE SAFETY:
After the traffic in the lanes nearest you clears, enter the center lane - and wait for traffic to clear in the far lane. It is also important to remember that this center lane is a "two-way" lane and a driver on the other side of the roadway could be attempting a similar move into the center lane heading the opposite direction from across the far lanes. Once you are in the center lane, turn on your right-hand turn signal.
Do not drive in the "shared left-turn lane." It's neither legal nor safe. Auto accidents occur frequently when drivers are not paying close attention to traffic in these areas.
HIGHWAY HINT
As you merge, watch out for vehicles entering the special turning lane in front of you as well as behind you.
Posted By
Robert J Kaiser
Categories: