20 Driving Tips - #14 Air Bags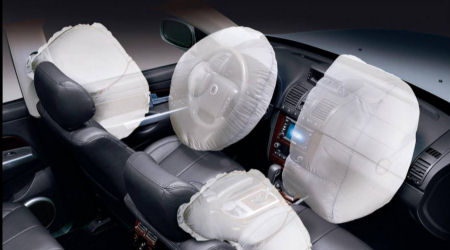 Air bags supplement the safety belts and are designed to inflate in moderate and severe frontal or near frontal auto accidents. When used in combination with safety belts, air bags further reduce the risk of fatality in frontal or near frontal crashes. Do you know if your car is equipped with airbags?
DOES YOUR CAR HAVE A PASSENGER SIDE AIR BAG?
Check your owners manual to make sure. Often there is a warning label on the sun visor and/or the front of the right door frame. Also, the air bag's compartment cover on the dash may be labeled SRS (Supplemental Restraint System) or SIR (Supplemental Inflation Restraint). But not all vehicles have a cover that shows in the dashboard.
AIR BAGS DO NOT DEPLOY WHEN:
You are rear-ended by another car, or hit in the side (unless the vehicle is equipped with side-airbags).
You misjudge your stopping distance and run into a stopped car at up to 10 to 15 mph.
AIRBAG DEPLOYMENT:
When airbags do deploy, they inflate at speeds up to 200 mph. Upon deployment, they also release a white powdery substance, usually talcum powder or corn starch, which is used in packing the airbags. This powder will fill the inside of the vehicle and is often mistaken for smoke after an auto accident. It is a good idea to teach drivers, especially our younger drivers, to expect a rapid deployment and powdery substance in case of a car crash. Understanding this may help avoid adding unnecessary concern to an already scary situation. Remember, with or without airbags, the safest place for kids is in the back seat, correctly restrained.
HIGHWAY HINT
Remember that it's critical to always wear a safety belt, even if you have a car that is equipped with an air bag. Safety belts provide the maximum protection in all types of crashes, not just head-on crashes. All states have laws requiring children to use child restraints. At least Forty-five states and the District of Columbia have laws to "Buckle Up."
Posted By
Robert J Kaiser
Categories: